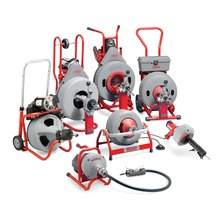 Sometimes there can be nothing worse knowing you can't flush your toilets, take a shower or wash clothes due to a clogged or stopped up drain line. Sometimes tree roots may be the culprit, or the kids flushed a toy down the toilet, or sometimes the pipes start closing up due to age.
Herman Allen Plumbing, Heating & Cooling has the solutions for all of these usual culprits. All of our trucks are outfitted with drain cleaning machines to get your lines back open in no time. With machines of various sizes, there are no drains too big or too small. When things get tricky, we also have a sewer camera and pipe locator system to determine where the problem spot is should more repairs be needed, or to find the cause of reoccurring problems.
Call us today to schedule a preventative drain cleaning service, or call us whenever you need us unexpectedly 24 hours a day!